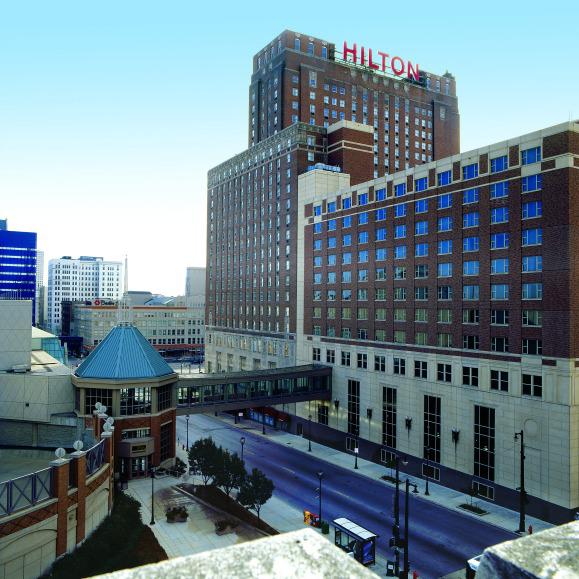 Hilton Milwaukee Venues
Hilton Milwaukee
Event Spaces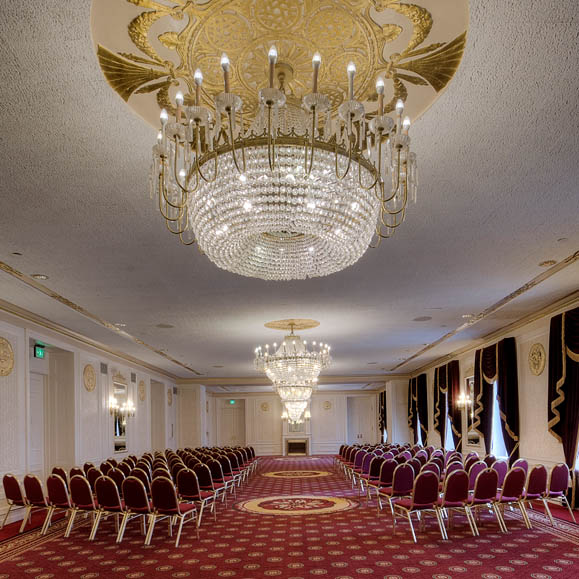 REGENCY BALLROOM
2,615 SQ FT | seats up to 125 Guests
The quaint and intimate Regency Ballroom, with its gold piping and decorative woodwork, makes this hotel ballroom ideal for a reception of 125 on its own, or as a receiving area in combination with the Crystal Ballroom.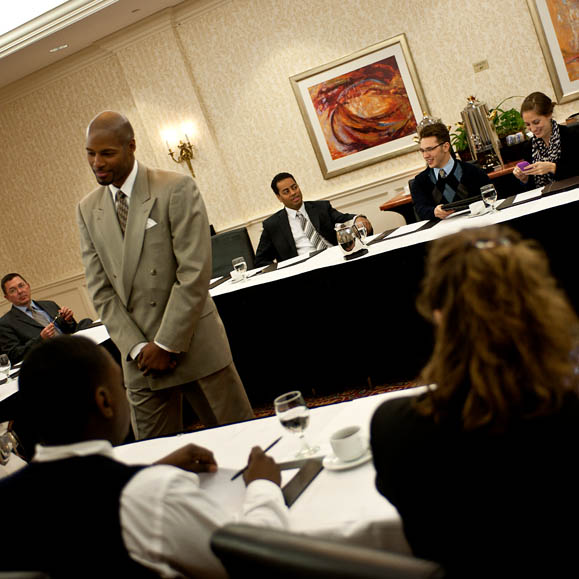 wright ballroom
3,511 SQ FT | seats up to 200 Guests
The Wright Ballroom is a 3,500 square foot space that conveniently divides into three sections, when combined creating a space with over 7,000 square feet and seating up to 720 guests. The Wright Ballroom is one of our Hilton meeting rooms that's the perfect choice for everything from intimate gatherings to corporate meetings.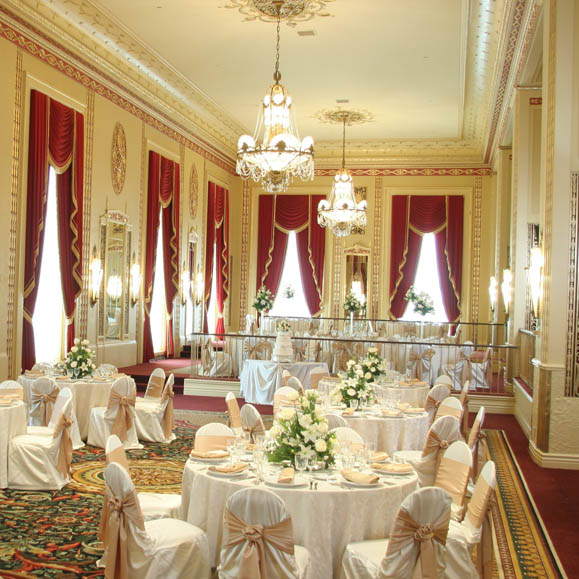 EMPIRE ROOM
5,625 SQ FT | seats up to 350 Guests
The Empire Room is one of our Milwaukee ballrooms that showcases its original chandeliers from 1927! This hotel meeting space also features a 30-foot ceiling with dramatic tri-level seating for up to 350 people.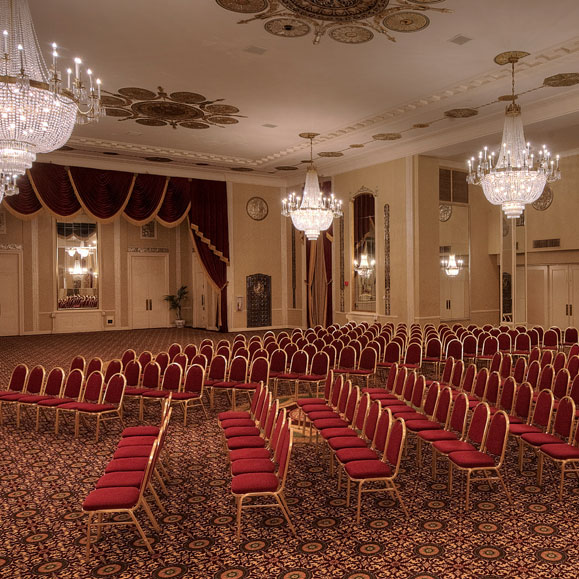 CRYSTAL BALLROOM
6,845 SQ FT | seats up to 500 Guests
The stunning and lavish Crystal Ballroom, adorned with crystal chandeliers, ornate trimming, a 22 foot ceiling, and plush velvet royal curtains, can seat up to 500 people for an extravagant event or as few as 200 for a more intimate gathering.
Hilton Milwaukee Meeting Space
Capacity Chart
| Room | Dimensions | Area (FT2) | Classroom | Theater | Banquet | Reception | Conference | U-Shape | H-Square |
| --- | --- | --- | --- | --- | --- | --- | --- | --- | --- |
| Empire Room | 41.67' x 135' | 5,625 | 250 | 475 | 350 | 500 | 50 | 40 | 50 |
| Ballroom Foyer | 36' x 63' | 2,268 | 75 | 200 | 220 | 300 | -- | -- | -- |
| Crystal Ballroom | 49' x 135' | 6,845 | 350 | 1,000 | 700 | 1,500 | -- | -- | -- |
| Founders | 16.67' x 19.5' | 325 | -- | -- | -- | -- | 10 | -- | -- |
| Golda Meir | 12.17' x 22.8' | 278 | 12 | 20 | 20 | 20 | 12 | 12 | -- |
| Juneau | 33.33"x42.33' | 1,411 | 50 | 120 | 110 | 120 | 30 | 24 | 30 |
| Kilbourne | 34.50' x 30.75' | 1,060 | 40 | 80 | 60 | 110 | 20 | 16 | -- |
| Oak | 30.00' x 32.42' | 975 | 50 | 80 | 90 | 100 | 30 | 24 | 36 |
| Regency Ballroom | 30.33' x 86.17' | 2,615 | 120 | 225 | 200 | 250 | 50 | -- | -- |
| Joseph Schlitz | 13.08' x 23.67' | 310 | 12 | 25 | 20 | 20 | 16 | 16 | 18 |
| MacArthur | 20.25' x 38.75' | 785 | 30 | 80 | 60 | 85 | 30 | 24 | 30 |
| Miller | 13.42' x 29.50' | 396 | 250 | 475 | 350 | 500 | 50 | 40 | 50 |
| Mitchell | 34.42' x 28.50' | 981 | 60 | 120 | 100 | 120 | 40 | 30 | 40 |
| Walker | 35.92' x 28.50' | 1,024 | 60 | 120 | 100 | 120 | 40 | 30 | 40 |
| Pabst | 28.83' x 15' | 432 | 15 | 25 | 30 | 30 | 20 | -- | 20 |
| Usinger | 15.08' x 22' | 342 | 25 | 20 | 20 | 16 | -- | -- | -- |
| Wright Ballroom | 43.17' x 81.33' | 3,511 | 200 | 360 | 270 | 400 | -- | 80 | 96 |
| Wright Ballroom A | 43.17' x 27' | 1,165 | 60 | 120 | 90 | 135 | 44 | 36 | 44 |
| Wright Ballroom B | 43.17' x 26.75' | 1,155 | 60 | 120 | 90 | 135 | 44 | 36 | 44 |
| Wright Ballroom C | 43.17' x 27.33' | 1,180 | 60 | 120 | 90 | 135 | 44 | 36 | 44 |
Meeting Venue Services