The Pfister Hotel
Guest Accommodations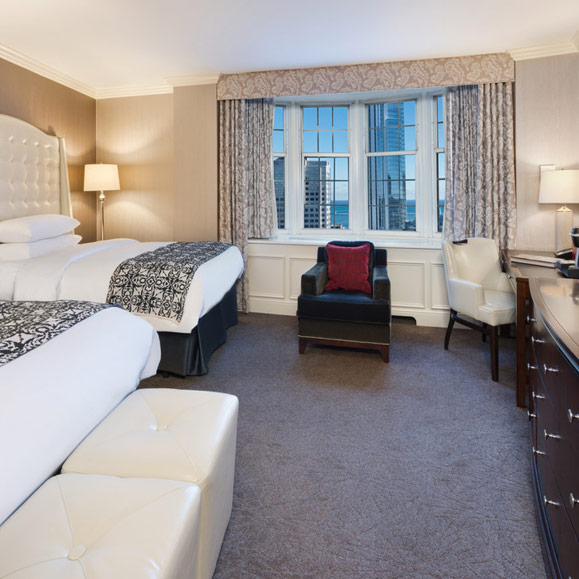 Premier Rooms
Premier Guest Rooms
Premier Rooms are located on the highest guest floors of The Pfister Hotel's alluring tower section and feature spectacular views of Lake Michigan or downtown Milwaukee. Featuring either one king-sized bed or two full-sized beds, we know you will have every comfort you need when you stay with us.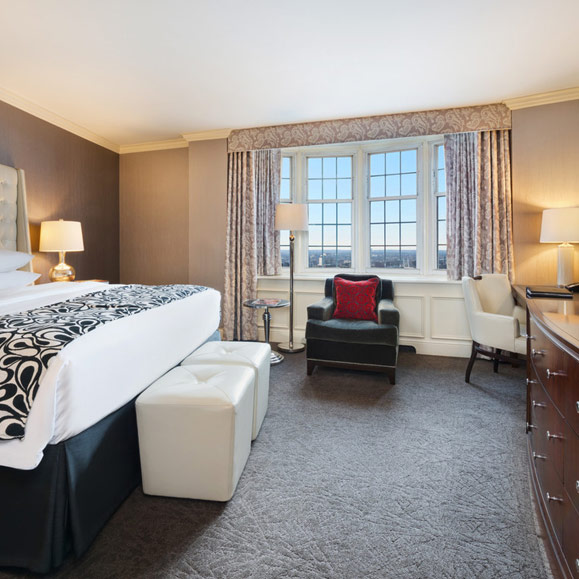 Tower Room - Lake View
Panoramic views
Our new Tower Rooms offer luxury and impeccable panoramic views of Lake Michigan and the downtown Milwaukee landscape. Decorated in a luxurious palette of pearl, silver, black, and chrome, these tasteful accents highlight the modern-day luxuries within the historic and regal atmosphere of The Pfister Hotel.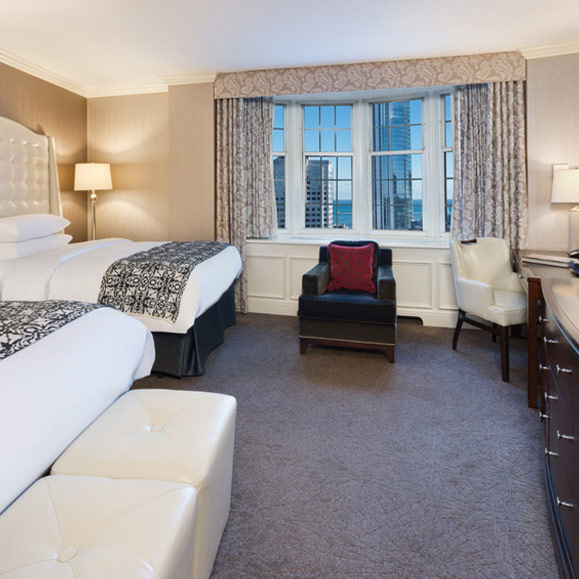 Grand Tower Rooms (King or Double)
Spacious Luxury
Our Grand Tower Rooms offer the comfort and luxury you need to feel right at home. Our impeccable views of the city landscape allow you to enjoy the sights of downtown Milwaukee from the comfort of your own room. With exquisite Grohe bathroom fixtures and ornate marble walk-in showers that offer privacy in their spaciousness, your group is guaranteed to enjoy every aspect of your stay. Our modern interior decorations exhibit the luxurious atmosphere our hotel provides its guests and work as a canvas to emphasize the stately impression The Pfister Hotel leaves.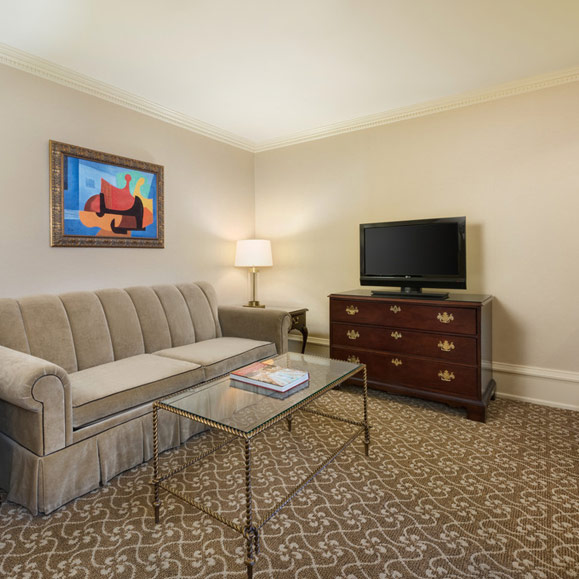 Pfister King Suites
Spacious and Elegant
Our King Salon Suites are spacious yet elegant, representative of the Pfister Hotel's history, and located in the historical section of the hotel. Each suite consists of two rooms: a parlor that functions as a sitting room, and a bedroom holding one king-sized bed. Additional sleeping space can be achieved through the sleeper sofa in the parlor room, guaranteeing you have all you need for a comfortable stay. Our elegant designs further demonstrate the refinement and elegance The Pfister Hotel is known for.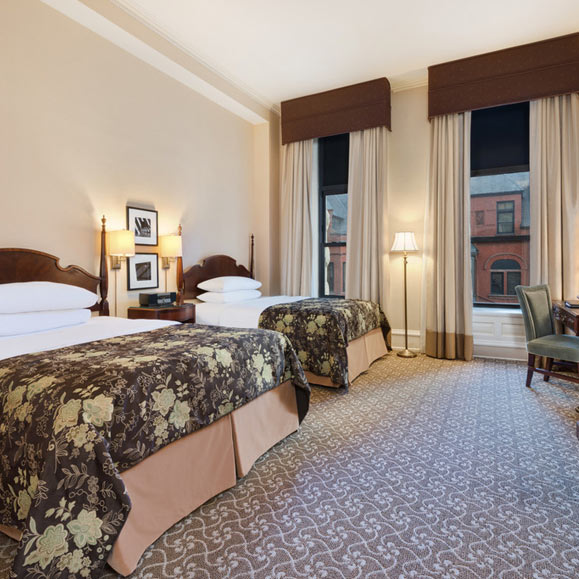 Pfister Double and Double Salon Suites
Sophisticated and spacious
Our Double bed rooms in downtown Milwaukee offer functional space with sophistication and the historical flare of 1893. Located in the historical section of the hotel, the Double rooms are furnished with two double beds and all the modern amenities one needs to feel at home. Our Double Salon Suites offer even more space while maintaining their elegance, consisting of two separate rooms: a parlor which can be used as a sitting room with a sleeper sofa, as well as a bedroom with two double beds. With modern designs that highlight the historic presence of The Pfister Hotel, we know you will enjoy your stay.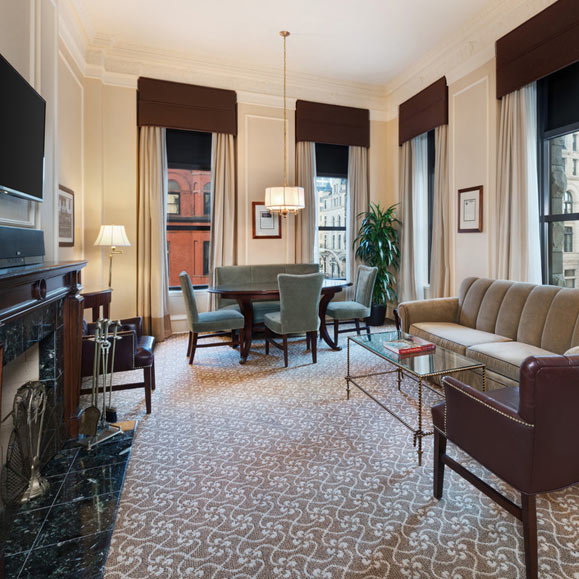 Pfister Governor's Suite
Immaculate and functional
Our immaculate Governor's Suite consists of a three-room suite, located in the historical section of our building. These elegant yet spacious rooms allow for various levels of functionality, from holding a business meeting that is both comfortable and professional, to hosting a relaxing stay with family and guests. Furnished with the finest décor and offering all the amenities one could need, this three-room suite demonstrates style and functionality. Our intricate and traditional interior designs represent the history of The Pfister Hotel, while our modern amenities offer a level of sophistication you won't find anywhere else.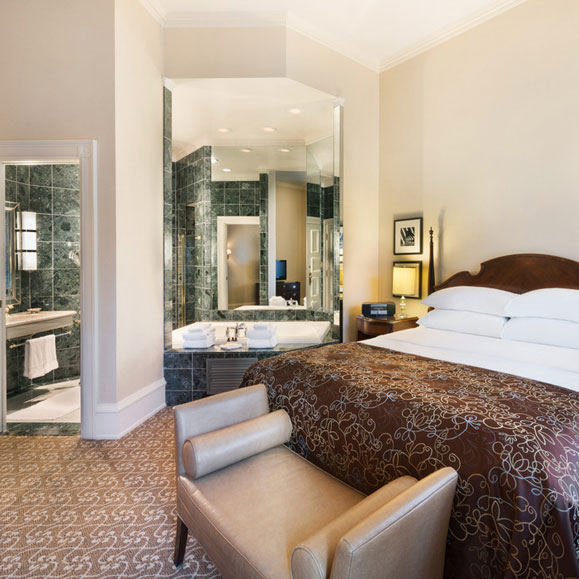 Heritage and Grand Heritage Suites
Comfortable and Elegant
The Pfister Hotel has long been considered as conveying class and elegance in downtown Milwaukee, and our Heritage and Grand Heritage Suites embody that wholly. The Heritage suite is our most spacious suite in the hotel's historical section. Containing two rooms, you are sure to experience a comfortable, spacious atmosphere that will make you feel right at home. Consisting of a large parlor which functions as a sitting room, the suite also possesses a spacious bedroom furnished with a king-sized bed. Our immaculately designed bathroom is equipped with a jetted bathtub and glass door shower. With a closing door between both rooms, you are guaranteed both privacy and spacious room for entertainment when you stay at the Pfister Hotel. ​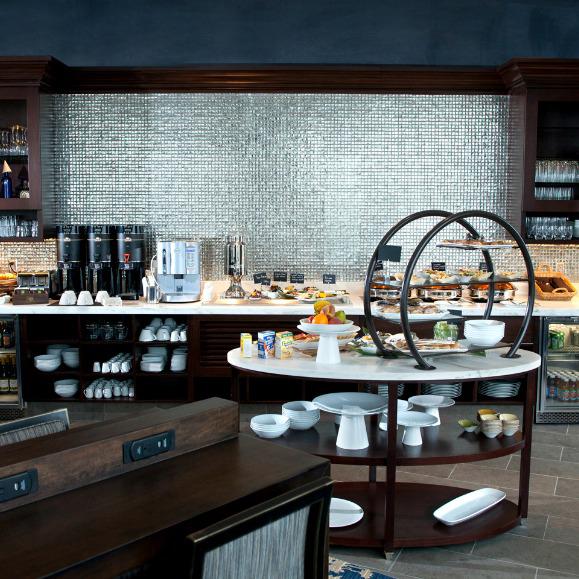 Pfister Club Lounge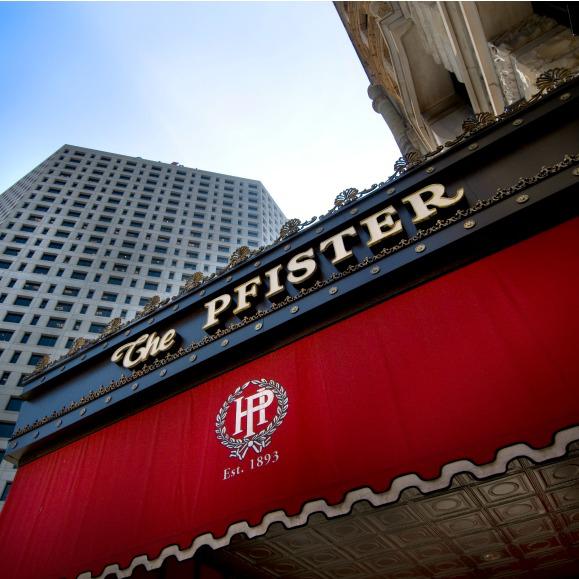 Convenient Parking