The Pfister Hotel
Event Spaces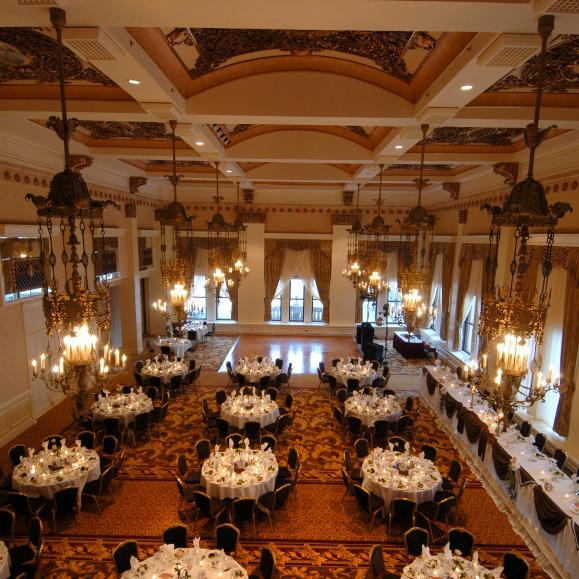 IMPERIAL BALLROOM
6,144 SQ FT | Seats up to 600 Guests
The Victorian designed Imperial Ballroom is located on the historic side of the 7th floor of the hotel. Featuring an impressive 32-foot high ceiling that lends an aura of graceful ambiance, the hotel ballroom can be set in theatre style or for dinner and dancing, making it the perfect downtown Milwaukee event space.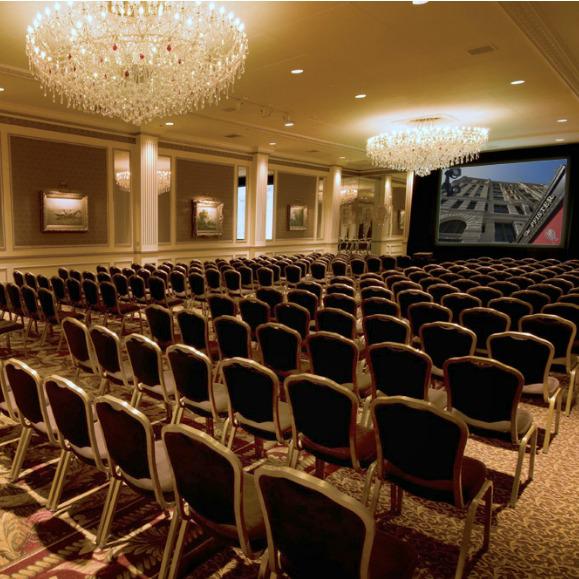 The Grand Ballroom
8,988 SQ FT | Seats up to 1,050 Guests
Classic elegance with crystal chandeliers and Victorian art, the Grand Ballroom accommodates up to 1,000 guests for theatre style seating in this elegant space. This hotel meeting room offers more versatile layouts to accommodate every event.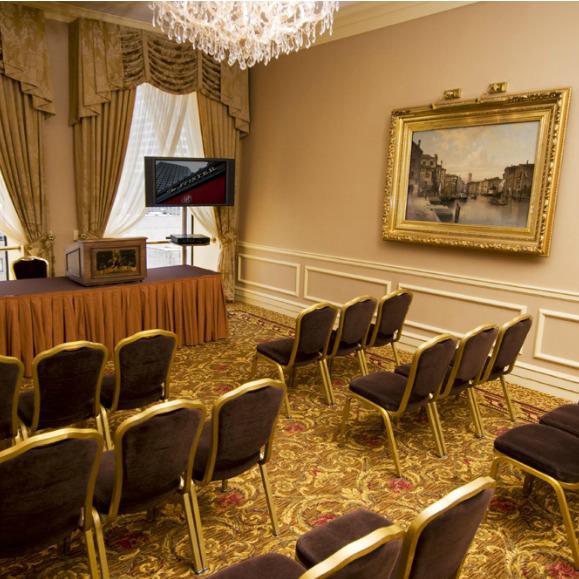 Hall of Presidents and Grand Foyer
2,000 SQ FT | Seats up to 200 Guests
Adjoining the Grand Ballroom meeting venue are the four Hall of Presidents rooms, named: Taft, McKinley, Roosevelt, and Kennedy. Available individually or together, the Hall of Presidents combined with the Grand Foyer work wonderfully as hotel reception, breakout space, or as a general conference room rental.
King's Row
9,201 SQ FT | Seats up to 860 Guests
Adjoining the Imperial Ballroom event venue is King's Row, which includes five adjoining rooms appropriately named: Empire Room, Charles I Room, Richard II Room, Louis XIV Room, Henry VII Room. All five hotel meeting rooms in King's Row feature over 9,000 square-feet combined and can accommodate over 850 guests. All five hotel rooms also feature removable walls that can be removed to create a reception or breakout space that extends from the Imperial.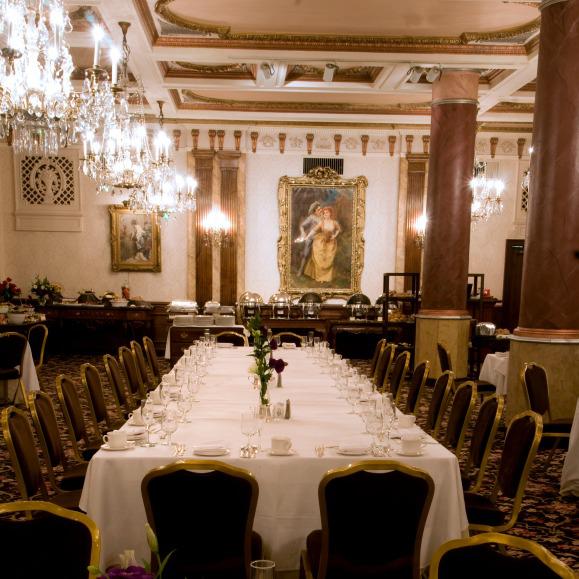 THE ROUGE
2,888 SQ FT | Seats up to 75 Guests
Styled with European flavor, appointed with crystal chandeliers and marble accents, The Rouge provides a distinctive atmosphere for hosting up to 75 theatre style seating, 120 guests banquet style or 200 for a reception within its 2,000 square feet of space. The Rouge is located directly off of the lobby level, making it very convenient for guests.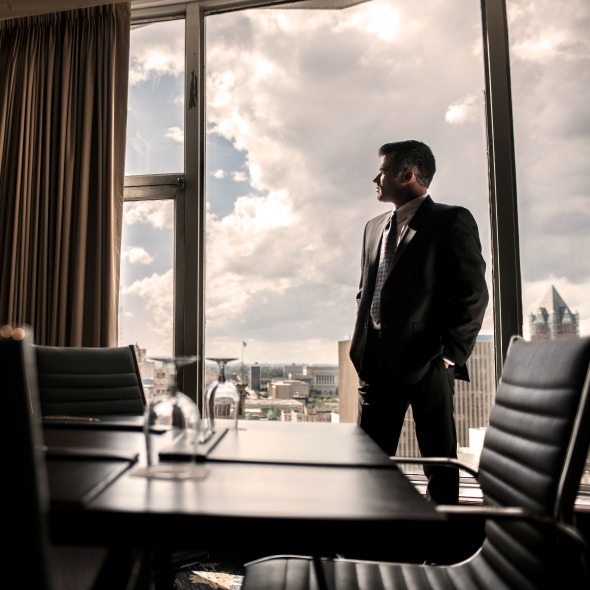 TWENTY-3
Seats up to 75 Guests
The Pfister's aptly named 23rd-floor executive boardroom, Twenty-3, is an upscale boardroom that incorporates an unmatched view with unmatched presentation technology, including 3-D, gesture recognition, and immersive technology and mapping capabilities, all with enough space to accommodate 75 guests in theatre style seating. As a state-of-the-art Milwaukee event space, the hotel's team of onsite technology experts will assist meeting planners and presenters with turning their videos, graphs, PowerPoint and Keynote files into powerful, interactive presentations displayed on two 65-inch, side-by-side monitors.
Pfister Meeting Space
Capacity Chart
| Name of Room | Dimensions | Area(FT2) | Classroom | Theater | Banquet | Reception | Conference |
| --- | --- | --- | --- | --- | --- | --- | --- |
| Grand Ballroom | 84'x107'x14'5" | 8988 | 450 | 1050 | 900 | 900 | -- |
| Taft | 18'x29'x12' | 522 | 20 | 50 | 30 | 30 | 25 |
| McKinley | 18'x29'x12' | 522 | 20 | 50 | 30 | 30 | 25 |
| Roosevelt | 18'x29'x12' | 522 | 20 | 50 | 30 | 30 | 30 |
| Kennedy | 18'x29'x12' | 522 | 20 | 50 | 30 | 30 | 25 |
| Imperial Ballroom | 48'x120'x32' | 6144 | 200 | 600 | 350 | 350 | -- |
| HenryVII | 30'x28'x12' | 840 | 35 | 70 | 50 | 50 | 35 |
| Louis XIV | 30'x28'x12' | 840 | 35 | 70 | 50 | 50 | 35 |
| Richard II | 19'x28'x12' | 551 | 20 | 40 | 50 | 50 | 25 |
| Charles I | 15'x28'x12' | 420 | 15 | 40 | 30 | 30 | 20 |
| Empire | 14'x29'x9' | 406 | 20 | 40 | 30 | 30 | 20 |
| Twenty Three | 21'x27' | -- | 40 | 75 | 60 | -- | 25 |
| Boardroom 216 | 15'x16'x10' | 240 | -- | -- | -- | -- | 10 |
| Executive Conference | 19'x18'x10' | 288 | -- | -- | -- | -- | 12 |
| Rouge | 76'x38'x14' | 2888 | -- | 75 | 120 | 120 | 35 |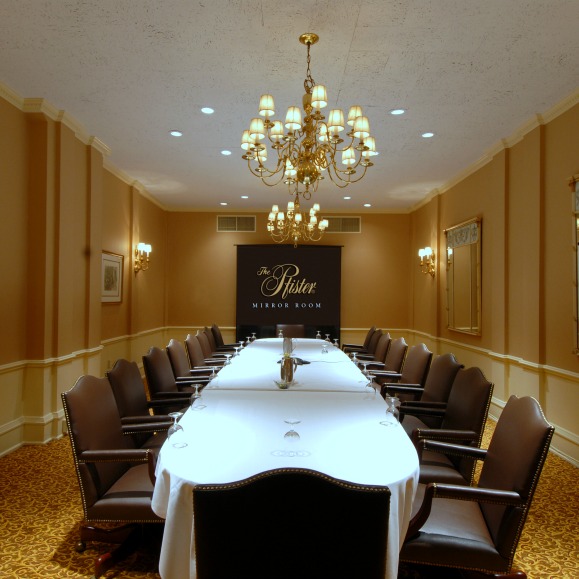 Pfister Meeting Services